The current situation in Orelio Ltd.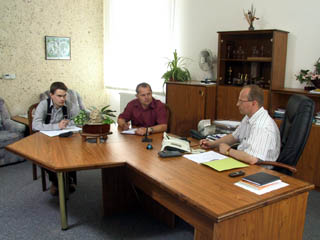 The Orelio Company is currently owned by a major share-holder Mr. Karel Kamba who acts as Company's agent and two minor share-holders, Mr.Josef Kamba and Mr. František Partyš.

Legally it is a limited company with a staff of 14 full-time employees in the main area of activity.

The main area of activity is the trade of live animals raised for meat and the trade of jointed and frozen meat. As to other areas of activity there is provision of road transport of fatted cattle and pigs, domestic and foreign trade activities, restaurant business and economical services.

The company is located in Vísky but the main offices are in Letovice on 50 Pražská Street. There on the first floor we can find the director's office, sales and purchase departments and other administration offices while downstairs there is a restaurant and a company's canteen. There is also a parking lot reserved for employees and business partners of the Company on the premises and some workshops used for small repair works.

The Company owns special two-level large-scale transport containers with hinged faces used for transport of live animals, mainly fatted cattle and pigs, which covers the main business activity. Company also has VOLVO and DAF cars used for all the other activities.

A fruitful business cooperation has started and been maintained with the huge producers of fatted animals as well as the small breeders. This policy has been adopted for both the purchase and sale activities.
The Company has recently widen its business activities towards finding suitable partners in Slovakia and EU countries, thus getting involved in the integration process and its projects.

In spite of the fact that the Orelio ? Vísky Company has been in business for ten years only it has succeeded to establish its strong position in the market of the Czech Republic. The fast development is most evident in the production of fatted pigs.